We are Vasilis and Vassilis Kanatas and we have helped thousands of customers to find their way into the healthy and beneficial nutrition based on the olive oil. We know how it feels like not having high quality olive oil in your nutrition from our travels in places where people used oils and fats of very poor quality for their nutrition (like seed oils, suflower oil, peanut butter etc.). These oils and fats are not as good as extra virgin olive oil for your organism and its health condition. This is a scientific fact based on thousands of researches. By using extra virgin olive oil you are making the right decision to improve your healthy life and eventually live better.
We are owners of the company V. & V. KANATAS O.E. in Delphi Greece.
We produce the olive oil "mer des oliviers de Delphes" as well as olives and olive paste. The olive oil is produced and bottled in our own premises in Delphi.
We also own and operate "Delphi Camping" which overlooks our many hectares of olive trees in the area of Delphi.
Our variety of olives is called "Amfissis" and has always been known for its excellent quality and taste. But few know that the oil derived from it has a very unique quality and flavor.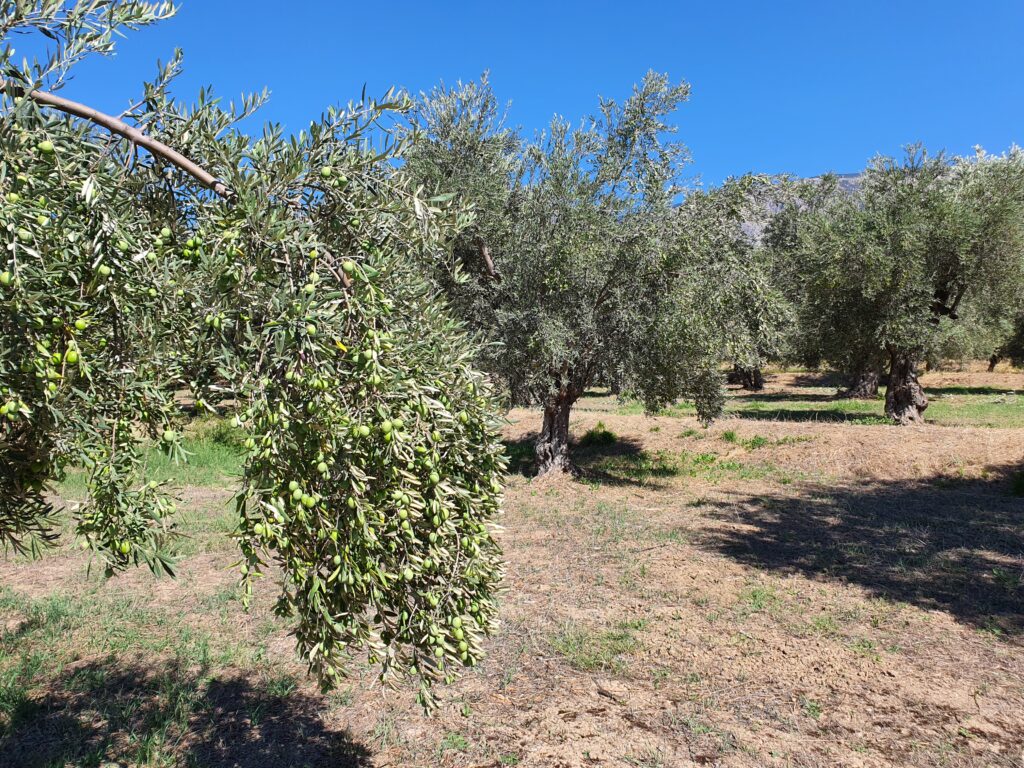 1. Amfissis type olive fruit has fewer calories per pound than any other olive fruit (Kalamata – Ladoelias – Koroneiki – etc.). Perfect for diets and healthy eating.
2. The characteristics of our oil are superb as shown by the analyses below. Our oil contains a high content of all the elements that make olive oil superior to others vegetable oils.
3. The taste of the oil from the olive groves of Amfissa – Delphi is very unique, with an intense and fruity aroma. It stands out among hundreds of oils produced in other parts of the world. So much so, that specialists blend our olive oil with other, indifferent oils in order to highlight their soft flavor. The fresh olives of Amfissa, bring the taste of almond and other fruits of the forest to the palate. These scents emerge from the oil, intoxicating connoisseurs, and the everyday consumer alike.
The average yield of Amfissa olive is 7 to 1. This means that it takes about 7 kilos of olives to extract a kilo of oil. The average yield of other regions of Greece is 4 to 1. This lower extraction yield, produces a superior quality olive oil, with sensory components condensed from a great amount of olives. The higher quality of olive oil, is also reflected in the average price of oils from our area.
Our most recent harvest of olives was in November 2020. The olives were collected in the traditional way, from irrigated land. The olive oil was bottled in December 2020 so it will maintain its' highest shelf quality till July 2022. The oil is produced by cold crushing at 25-27 degrees Celsius.. Bottling is done according to the strictest EU, oil packing regulations which govern this process.
"mer des olivier de Delphes" olive oil is rich in flavor, tantalizing to palate, and with excellent characteristics. With our passion, and our hard work ethic, both inherited from our ancestors, we continue to toil our olive groves. We aim to bring the superior quality of our olive oil region to connoisseurs and olive oil lovers around the world. We will not rest until we bring back the olive oil of Delphi back to its rightful position of highest acclaim.
Vasilis and Vassilis Kanatas
Olive Oil Chemical Analysis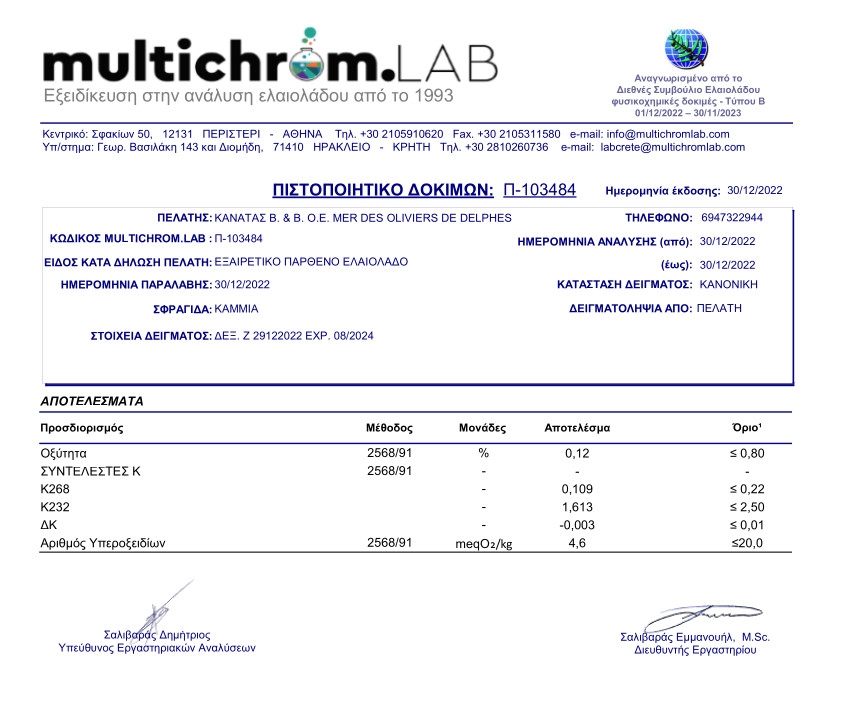 Nutrition facts